News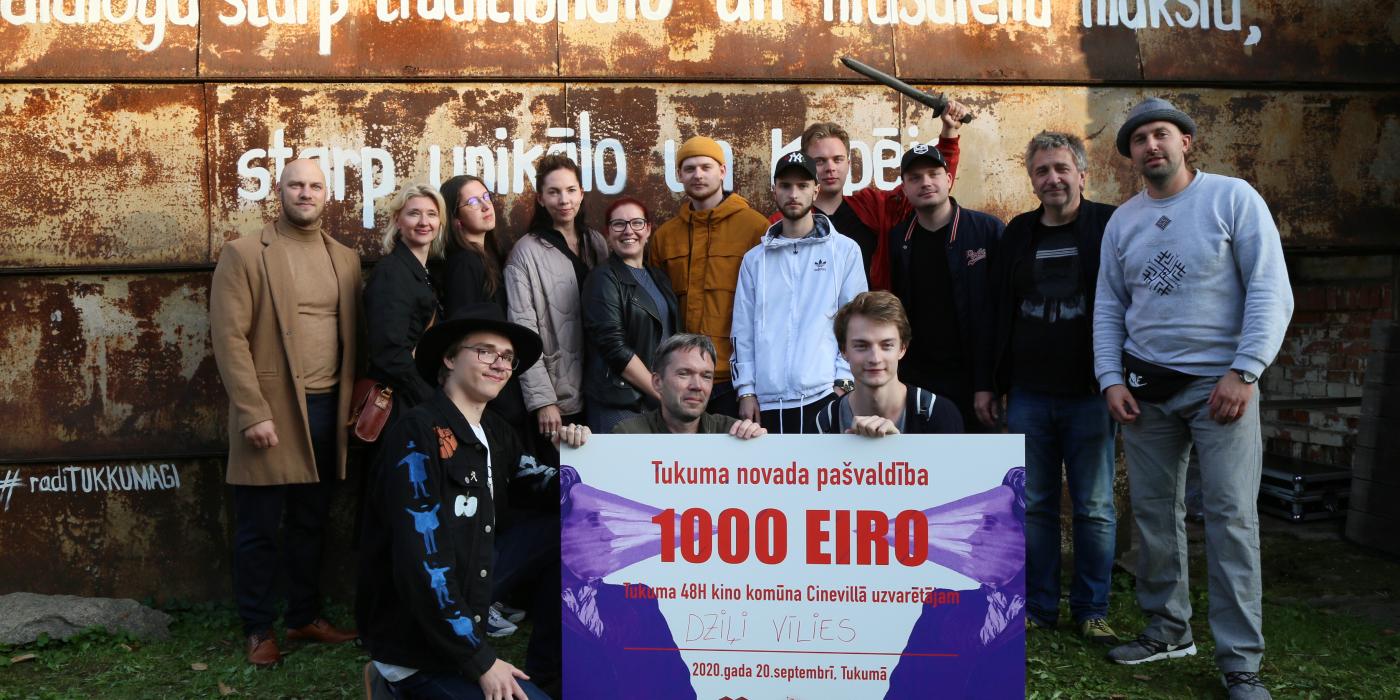 21.09.2020
The main prize of the 48-hour cinema creative challenge is awarded to the film «Cirtenis»
The main prize – 1000 euros (before taxes) donated by Tukums municipality was awarded to the team "Dzīļi vīlies" (eng - Deeply Disappointed ) for the short film "Cirtenis". In turn, the jury decided to split the award of the technology and entertainment company "Tet" – purchase and screening of films on the entertainment platform "Shortcut" worth 500 euros: two films "Cirtenis" with the screening of 300 euros and team A53 presentation of EUR 200.
"The event is proof that in 48 hours it is possible to create a work of art that may be more original or as original as the works that people have been working on for years.
The film "Cirtenis" convinced the jury with a masterfully told cinematic idea, good cinematic language, witty details, sincerely involved residents of Tukums, well-chosen locations of Cineville, originality and moments of surprise. It was interesting to watch all the time, "admits Laima Graždanoviča, the chairman of the jury and the representative of the organizers of the film community, the program director of the 2ANNAS International Short Film Festival. The jury decided to split the Tet Prize for two films, as it also wanted to welcome the short film NEXT GEN, which convinced the jury with a concise story, great special effects, dynamic camera movement, successful locations and the ability to show on screen so much."
The short film "NEXT GEN" also won the Audience Award – an opportunity to implement a cinematic idea in the cinema city "Cinevilla". The material representation of the award – a symbolic sword that will help in the fight for a place in the film industry – was given to the filmmakers by the producer and director, a representative of the jury Andrejs Ēķis.
"Cinema community – bringing young filmmakers together in one sprint is a colossal idea! I hope to be able to participate in this event next year as well. Our team consists of three film directing students of the Latvian Academy of Culture (LCA), and winning this competition is a great way to start the new school year with a full charge of creative energy, "admits Emīls Alps, a student of the winning team" Deeply Disappointed " .
The short films were judged by a jury of audiovisual art professionals: Laima Graždanoviča, director and artist of the 2ANNAS program of the Riga International Short Film Festival, Katrīna Neiburga, artist and set designer, film director Juris Poškus, screenwriter Lote Eglīte, as well as producer and director Andrejs Ēķis.
31 creative teams applied in the cinema community, from which the 10 strongest teams were selected for further participation.

The cinema community is organized by the leading short film festival in Latvia – Riga International Short Film Festival 2ANNAS and Tukums Municipality in cooperation with the cinema city "Cinevilla", but a special prize is provided by the technology and entertainment company "Tet".

According to the organizers' plans, "Tukums 48h Cinema Community in Cineville" will be an annual international event with a prestigious jury and filmmaking teams from different countries. The aim of the municipality is to promote creative cooperation, shooting new, innovative films, to popularize Latvian architecture, natural landscape and environmental design, as well as Tukums region as a destination for tourism and film industry.

Photo: Arnis Kalnins / Winners of the main prizes and the "Tet" prize