News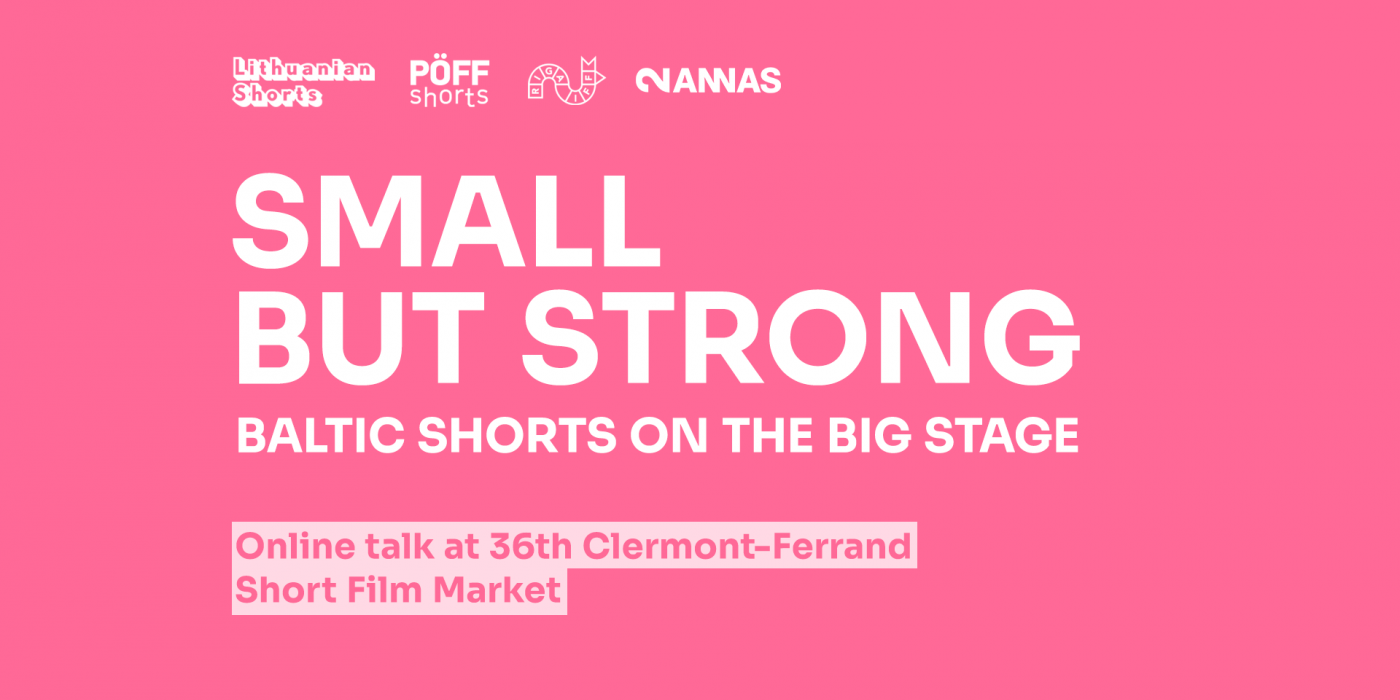 09.02.2021
Small But Strong - Baltic countries show how short films from their region are making an impact on the international stage
At the most recent edition of the Clermont-Ferrand International Short Film Festival – the biggest short film festival in the world which, in 2021, is taking place in an online format - representatives from each of the three Baltic countries took part in the discussion Small But Strong - Baltic shorts on the Big Stage. Aimed at the industry professionals in attendance at Clermont, the talk gave an overview of the Baltic film industry and showed that - despite the relatively small sizes of the Baltic states – that short films from Lithuania, Latvia and Estonia are having great success on the international scene.
Rimantė Daugėlaitė from Lithuanian Shorts began the talk by exploring the huge success that short fiction, animation, and documentary films from Lithuania have been having over the past few years. With approximately 40 short films produced every year – with around 15 shorts funded by the Lithuanian Film Centre – there has been an increasing number of shorts produced by the country year after year alongside more films joining the catalogs of international sales agents.
Daugėlaitė also revealed that many of the successes in the Lithuanian film industry over the past few years had been down to short films. She cited examples that included Community Gardens (Dir. Vytautus Katkus, Prod. Viktorija Seniut ), which had its world premiere at the 58th edition of Cannes Critics' Week (the first Lithuanian short film to do so) and went on to over 80 festivals and a nomination at the European Film Awards. His second short Places screened at the 2020 edition of the Venice Film Festival. Another first was Dummy (Dir. Laurynas Bareiša, Prod. Klementina Remeikaitė) which became the first Lithuanian short to premiere in Berlin as it was screened at Berlinale Shorts in 2020 and is currently continuing a healthy festival run with more than 40 festival screenings so far. The animation was a perennially popular export for the country, with one example being Matilda and the Spare Head (Dir. Ignas Meilūnas, Prod. Marija Razgutė), a children's animation that premiered at Annecy and has had more than 50 festival screenings. It was also mentioned how each of these films had been picked up by a major short film sales agent and had been given domestic theatrical by Lithuanian Shorts.
Daugėlaitė cited the work of Lithuanian Shorts in helping to solidify and support the domestic short film scene both nationally and internationally. Originally set up in 2012, the short film agency is behind a number of projects including the yearly Lithuanian Shorts catalog, the Vilnius International Short Film Festival, the Baltic Shorts Residency (a script development program for writers from the region), and the Baltic Pitching Forum.
Anna Zača, from the Latvian Animation Association and Short Riga (part of the Riga International Film Festival), noted that the lack of a cohesive promotion agency and funding structure for short films in Latvia reflected in a relatively low rate of shorts, animations, and documentaries emanating from the country on a year by year basis with around 10-15 being produced every year. Yet while the situation was tougher for those wanting to produce short films (especially fiction shorts) in the country – something that Zača hoped would change in the years to come – she also noted that there was still great talent in the country that were producing short films that were making their mark on the international scene. Shorts from animators such as Anete Melece, Edmunds Jansons, and Vladimirs Leščiovs were continuing to have a presence on the film festival circuit, especially at those specializing in animation. She also noted the documentary Blueberry Spirits by Astra Zoldnere had a decent run at prestigious short film festivals and dedicated documentary festivals.
Zača gave the specific example of animated Riga's Lilac, a Latvian – French co-production from Latvian director Lizete Upīte. After a lengthy development process, the animation found a popular home on the festival circuit with a number of high-profile festival screenings including Palm Springs, Fantoche, and Moscow. Zača also noted new projects due from over the coming year from a number of talented filmmakers, including Armands Začs and Kristīne Vītola as well as Raitis Ābele who – along with brother Lauris – was responsible for one of the most notable Latvian short fiction films of the past few years, the Tampere Film Festival Grand Prix winning Castratus The Boar.
Laurence Boyce from PÖFF Shorts (part of Tallinn Black Nights Film Festival) noted that while Estonia had an already established international reputation for both its animations and documentaries, fiction short films were also becoming more popular both domestically and internationally. Despite being the smallest of the Baltic countries, the country is able to produce approximately 30-40 shorts (animation, documentary, fiction, and student shorts) per year. With the Estonian Film Institute upping their yearly budget for making shorts to 150'000 EUR in 2021, applications for the EFI short film production funds (fiction and documentary) increasing year after year, and Estonian short film distribution agency ShortEst, there is a confident outlook for Estonian shorts.
Boyce mentioned the particular success of My Dear Corpses (Dir. German Golub, Prods. Sander Lebrecht & Antero Noo) - emanating from Baltic Film Media and Arts School (part of Tallinn University) - which won Gold at the 2020 Student Academy Awards. There was also 2019 production Virago (Dir. Kerli Kirch Schneider, Prod. Diana Mikita) which won the Grand Prix in the International Comp at Busan International Short Film Festival in Korea and screened at numerous other festivals including Leeds, Warsaw, Short Shorts in Tokyo, Drama in Greece and Palm Springs. Animated films, by already internationally renowned names such as Ülo Pikkov and newer talents such as
Sander Joon, were also continuing to prove popular internationally as well as documentaries.
It was noted by all three representatives that each country had a healthy festival scene with each country holding internationally renowned short film festivals (including Academy Award qualifying festivals and European Film Award Candidate Nominating festivals) as well as film schools that bring forth a number of short films every year.
While each Baltic country is different in the ways and means that shorts are produced it was also stressed that one of the strengths of the Baltics was the collaboration between the three countries both on an institutional level and on an artistic level. One of the chief examples of this was the Baltic Pitching Forum. During the forum – organized by the major short film organizations from across the Baltic - filmmakers gather to discuss, get feedback and learn to promote their newest short film projects on the international level. Selected projects are evaluated by an international panel of 7 members, professionals from the fields of festivals, TV, distribution, production, and film commissioning, and winners get the chance to visit pitching forums such as Euro Connection and European Short Pitch.
With many of the directors and producers mentioned in the talk being BPF alumni, it was shown how important the event has become for the region, allowing filmmakers from Lithuania, Latvia, and Estonia to network, forge closer relationships, and bring their work to the attention of the international industry.
There is an abundance of talented voices in Lithuania, Latvia, and Estonia and these voices are being increasingly louder on the international stage. But the Baltics are 'Small But Strong' not only because of the noticeable filmmakers but because of their willingness to work together and to collaborate.
_____________________________________________________________________________________________________________________________________________
Notes for Editors
Baltic Pitching Forum - https://bpf.lt/
Lithuania
Population - 2.8 million
Vilnius International Short Film Festival - www.filmshorts.lt
Lithuanian Shorts - www.lithuanianshorts.com, info@filmshorts.lt
Lithuanian Shorts Catalogue - lithuanianshorts.com/en/catalogue-2020-2021/
Latvia
Population 1.9 million
National Film Centre of Latvia - http://nkc.gov.lv/en/
Latvian Animation Association (Latvijas Animācijas asociācija ) https://www.latviananimation.com, office@latviananimation.com
Riga International Film Festival - https://rigaiff.lv/en/
Short Riga - https://rigaiff.lv/en/programme-2020/short-riga/short-riga-international-competition/, lauma@rigaiff.lv
Riga International Short Film Festival 2Annas - https://2annas.lv/en/
Latvian National Film School https://lka.edu.lv/en/about-academy/structure/nacional-film-school-latvian-academy-culture/ ,, Liene Linde - Director of Cinematheque, liene@citakinozeme.lv
The Art Academy of Latvia Faculty of Audio-visual Media Art https://www.lma.lv/en/academy/nozares/motion-image-sound
Baltic Analog Lab https://balticanaloglab.lv
Estonia
Population - 1.3 million
Estonian Film Institute: filmi.ee
Estonain Films Booklet 2021/22: https://filmi.ee/wordpress/wpcontent/uploads/2021/02/EFI_filmiraamat_2020_2021.pdf
Black Nights Film Festival: https://poff.ee/
PÖFF Shorts: https://shorts.poff.ee/, Contact: laurence.boyce@poff.ee
Estonian Shorts: https://estonianshorts.com/
ShortEst: https://www.facebook.com/ShortEstISFC/
Baltic Film, Media and Arts School: https://www.tlu.ee/en/bfm, Contact: siiri.haidma@tlu.ee
Cash Rebate info for Short Animation and animation series: https://filmestonia.eu/index.php/film-estonia-cash-rebate/