News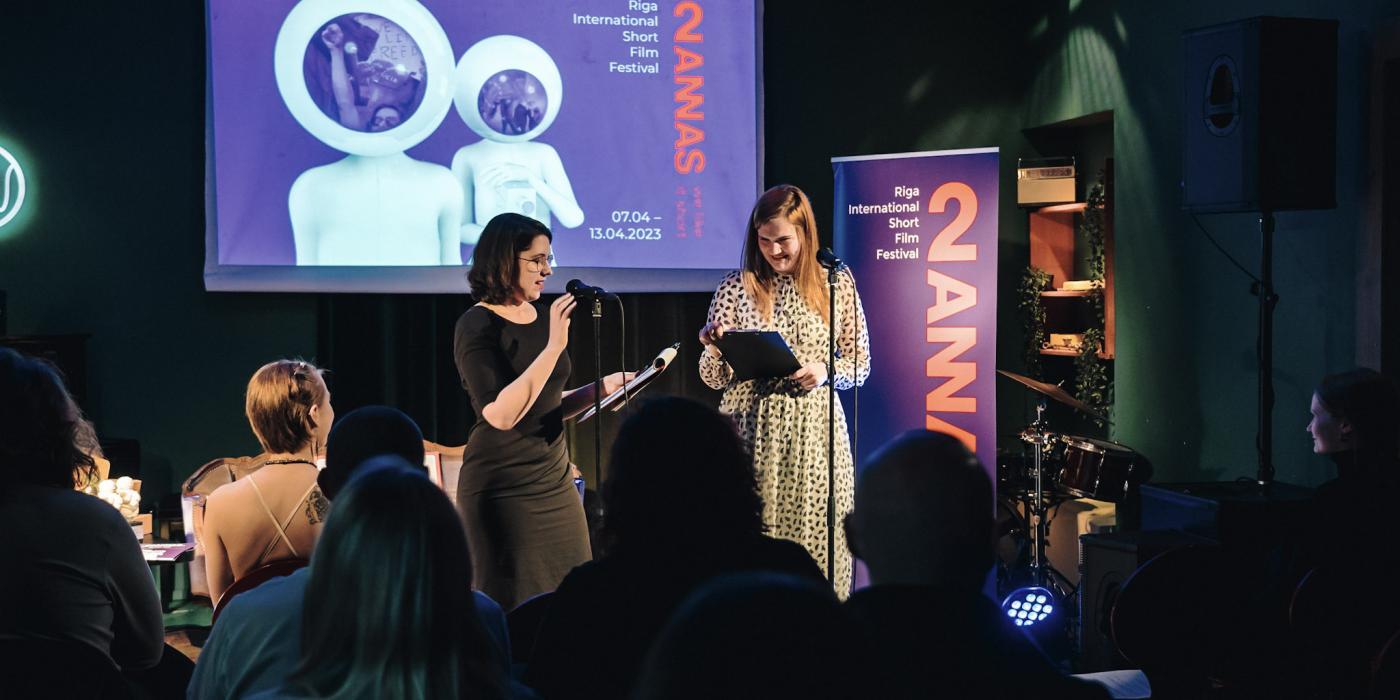 02.06.2023
A FILM FROM THE NETHERLANDS WINS THE FESTIVAL 2ANNAS ISFF
At the 27th Riga International Short Film Festival "2ANNAS," held from April 7th to 13th, the jury awarded the Grand Prix - the "Bronze Anna" statuette - to the documentary short film "Neighbor Abdi" by Dutch director Douwe Dijkstra. Meanwhile, the best film in the Baltic Short Film Competition was recognized as the feature film "Dear Passengers" by Estonian director Madli Lääne, which received the "Plaster Anna" award.
The film "Neighbor Abdi," with a duration of 29 minutes, tells the story of Abdi, a Somali man who embarks on a candid and painful journey into the past with the director. The jury highly appreciated the film's playfulness and inventiveness, emphasizing its ability to be both entertaining and complex, combining different cinematic forms to tell a beautiful story about traumas, wounds, and forgiveness in a past full of war and violence. At the same time, the jury noted that the film is a perceptive and particularly relevant piece of cinema.
In the Baltic Short Film Competition, the winning film was an 11-minute piece called "Dear Passengers," a contemporary dance performance that follows a solitary traveler on a journey to seek a sense of relief and fill the pulsating voids of the soul. Her irrepressible longings spread, captivating the other passengers on the bus and urging fellow travelers to recognize their desires and identify moments of disappointment. As the jury indicates, the film is like an intimate dance expressing a longing for touch.
This year, the films were evaluated by an international jury consisting of Bohdan Zhuk, programmer of Ukraine's largest international film festival Molodist, director, producer, and screenwriter Matīss Kaža from Latvia, and promising producer Justė Michailinaitė from Lithuania.
"This year, the festival showcased several formal tendencies, for example, there were an extremely high number of films that used off-screen text as the primary narrative tool. The films that resonated the most were those that were deeply personal or artistically original and employed innovative cinematic techniques. Diverse cinema - precisely experimental and unabashed solutions - is what directors can afford in short formats but are not given the opportunity due to financial reasons in feature films, which is why short films should always be paid attention to," says jury member and director Matīss Kaža.
In total, more than 2,000 films from 25 countries competed in this year's festival, and the best 67 short films were selected for four competition programs: the International Short Film Competition, the Baltic Short Film Competition, the International Medium-Length Film Competition, and the International Children and Youth Short Film Competition.
Winners of the 27th Riga International Short Film Festival "2ANNAS":
Best Competition Film, Grand Prix, and Bronze Anna winner - "Neighbor Abdi" (Douwe Dijkstra, Netherlands, 2022)
Best Baltic Short Film, Plaster Anna winner - "Dear Passengers" (Madli Lääne, Estonia, 2022). The film's creators also received the opportunity to carry out post-production at BBPostHouse worth 2,000 euros.
Best Animation Short Film, Plaster Anna winner - "Juice" (Mona Keil, Germany, 2022) Best Drama/Game Cinema Short Film, Plaster Anna winner - "Where The Sun Sleeps" (Pablo Dury, France, 2022)
Best Documentary Short Film, Plaster Anna winner - "That Boy Again" (Jan Koester, Germany, 2022)
Best Medium-Length Film, Plaster Anna winner - "Aribada" (Simon(E) Jaikiriuma Paetau, Natalia Escobar, Germany, 2022)
Winner of the Children's Short Film Competition, recipient of the Glass Diploma - "The Queen of the Foxes" (Marina Rosset, Switzerland, 2022)
Winner of the Youth Short Film Competition, recipient of the Glass Diploma - "Code Rose" (Taye Cimon, Pierre Coëz, Julie Groux, Sandra Leydier, Manuarii Morel, Romain Seisson, France, 2022)
Winners of the Jury's Special Mention - "Hardly Working" (Total Refusal, Austria, 2022), "Eeva" (Lucija Mrzljak, Morten Tšinakov, Estonia, Croatia, 2022), and "I am Michele" (Olena Siyatovska, Ukraine, Netherlands, 2021)
Viesturi Golf Club Promotion Award - "The Synthesis" (Ķīna Tabaka, Latvia, 2022)